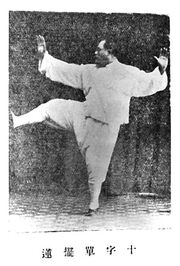 The 
Heel Kick
 (蹬脚
dēng jiǎo
) is a common posture found in t'ai chi ch'uan. Typically at the end of the posture one leg (initially the left) is extended forward in a regular frontal heel kick, while the opposite hand (in this case the right) is held extended at shoulder height, in a parallel line with the clavicule; the other hand (in this case the left one) iks extended in the same fashion as the other, but looking forward following the line drawed by the extended leg; Both hand are open in full palms.
The Heel Kick is an easy posture to learn from beginners. The only complication may be the equilibrium that requires.
This posture uses a sort of P'eng (Warding off) application and the Chung Ting (Central Stance) movements.
Applications
Edit